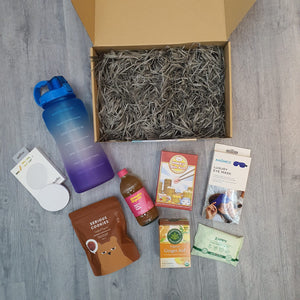 What is Included in the Pack?
2L Sport Water Bottle with Locking Flip-Flop Lid and Drinking Straw and Motivational Time Marker BPA Free 
Printing: 1C logo on 1 spot
Sudio LADD 10W Wireless Charging Pad (White)
Lay down and recharge with the Sudio Ladd+ wireless charger. Place your Sudio Ett or other wireless charging enabled devices on top of the charger and watch as it quickly, safely, and easily transfers power. Just set it down and power up.
Highlights:
BETTER CHARGING : Sudio Ladd+ draws its source power through USB-C, the latest in USB information and energy transfer technology, while internal sensors make sure your device stops charging when it needs to.
VEGAN LEATHER DESIGN : The cruelty-free leather charging pad offers non-slip protection to keep your device in place, while the cooling surface area prevents overheating. Sudio Ladd+ looks cool and stays cool.
INDUCTION ENERGY : Sudio Ladd+ uses QI standard induction charging technology for tried, tested, and safe wireless energy transfer compatible with Sudio Ett and all QI-charging enabled devices.
Printing : 1C logo on 1 spot
Happy Dim Sum Card Game
Welcome to Happy Dim Sum! As a good guest, you'll be serving tasty pieces of Har Gow, Siew Mai and other delights to your fellow diners. Discover hilarious ways to load your friends' plates while keeping your own clear, like getting help from Grandma and battling over the bill.
Unique Selling Points:
Quick and easy to learn and play
Great fun with family and friends
Tantalising dim sum art, each with Its own individual personality 
Anomeo Luxury Sleep Mask
Shy away from the world and get some well-needed shut-eye with the Luxury Sleep Mask. 
Made of high-quality foam and Polyester fabric that is gentle to the face and eyes.
Tighten and untighten the fastening for desired fit.
Unique design fully covers eyes and effectively blocks out all light
Contoured fit with no pressure over eyes and nose
Fully adjustable strap with hook & loop fastening
Shell: 90% Polyester + 10% Elastane, Inner: 100% PU Foam
Care instructions: delicate hand wash
Traditional Medicinals Organic Ginger Aid, 16 bags 
Herbal Power: Promotes healthy digestion and prevents nausea associated with motion.
Taste : Warming and pleasantly spicy.
Plant Story : Herbalists have celebrated ginger for millennia, thanks to fast-acting plant compounds which help calm digestive discomfort. Blended with supportive herbs like turmeric and moringa, this tea for digestion is perfect after a meal and an ideal travel companion when you're on the go.
170g Serious Cookies Chewy Choc Chip or Chewy Double Choc Flavour 
Wholegrain · No Added Refined Sugar · Plant-Based · Certified Organic
Our delicious cookies are made with our secret blend of plant-based ingredients – organic quinoa and coconut flours are baked with organic coconut oil and fair trade vegan dark chocolate.
Ingredients: Gluten-free flour blend (white rice flour*, quinoa flour*, potato flour*, coconut flour*), raw sugar*, coconut oil*, fair trade dark chocolate* (13%) (sugar, cocoa liquor, cocoa butter, sunflower lecithin, natural vanilla flavour), cocoa powder* (7%), baking soda (sodium bicarbonate), salt, natural vanilla flavour. (*Certified Organic). Chocolate contains 55% cocoa solids.
300ml Almighty Organic Juice Range - Carrot Orange Turmeric 
Low In Natural Sugars (No Sugar Is Added) · Sustainably Sourced Produce · Zero Plastic Packaging · Supports Little Gardeners · Vegan
Enjoy a box of Almighty Organic Juice for home, or the office, or wherever else you might like a fridge-full.
The carrots are from organic growers in Raikaia, not far from Christchurch, on New Zealand's South Island. Carrots also give us heaps of vitamin A, B6, H, K, as well as potassium.
Turmeric is a wonderful helper too, the curcumin locked within it is famous for its antioxidant and anti-inflammatory properties. Add some oranges to the mix and you've got yourself a delicious, nutritious juice that's low in natural sugars (<5g of sugar/100ml), and tastes out of this world!
ZAPPY All Natural Food Wipes 15s 
All natural ingredients (plant based) / 100% Food Grade / Rinse free / No alcohol, no harsh chemicals / Eliminates germs and bacteria on the go / Made in Singapore / Ideal for outdoor dining, picnics and travel use
All items will be nicely packed into:-
Packaging : Kraft Box + Customised Belly Wrap​ with corporate logo and message
Minimum Order Quantity (MOQ): 100 @ $105 each + GST
* In the event an item ordered is out of stock or not available, we reserve the right to replace any item with an equivalent valued item.