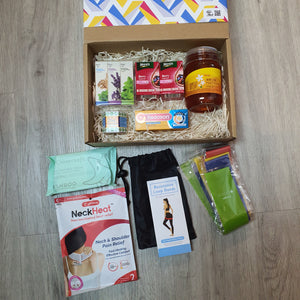 What is Included in the Pack?
2 x 42ml Brands Berry Essence. Made with seven premium berries I Halal

1 x 500g Huiji Honey Relieves Dryness in Mouth I Halal

1 x Redoxon Triple Action Effervescent Orange or Blackcurrant, 10 tablets

1 x 8ml Eagle Brand Fresh On Aromatherapy Roll On. Refreshing and invigorating aromatherapy roll on comes in three scents: Original, Lavender and Barley Mint. The scents are formulated from natural aromatic ingredients which help to provide a calming and relaxing effect that relieve motion sickness, giddiness and itchiness from insect bites. 3 scents to choose from. 

1 x 19.4g Tiger Balm Classic Ointment – White. For fast and effective relief of headache, stuffy nose, itchiness, muscular aches, pains, insect bites.

1 x Pslove NeckHeat Neck & Shoulder Pain Relief, 2pcs. NeckHeat uses a clinically-proven heat therapy method to relax your neck and shoulders, thus providing relief and comfort. It is simple and extremely convenient to use. Simply tear open the packaging and it will start to heat up within 5-10 mins. NeckHeat is also designed to fit on your neck or shoulders for wide coverage and maximum comfort. It can even be split into 2 pieces for people with broader shoulders.

1 x Cloversoft Unbleached Bamboo Organic Antibacterial Wipes 15s. Certified Organic Aloe Vera By EcoCert / Free of Alcohol, Chlorine, Phthalates, Paraben, Phenoxyethanol & Formaldehyde / Unscented, Non-Toxic.

1 x Resistance Exercise Band Pouch Set. 5 Coloured Resistance Bands with 5 Different Strength Levels in a Black Pouch. Comes with Workout Instruction. Printing: 1C logo print on pouch.
 All items will be nicely packed into:-
Packaging : Kraft Box + Customised Belly Wrap​ with corporate logo and message
Minimum Order Quantity (MOQ): 100 @ $50 each + GST
* In the event an item ordered is out of stock or not available, we reserve the right to replace any item with an equivalent valued item.