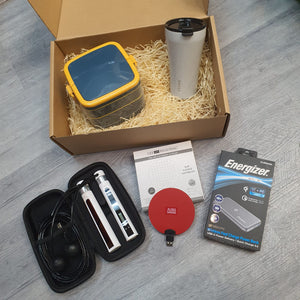 What is Included in the Pack?

1: 1 x Electronics Pack: Smart Jumping Rope with Portable Gift Box
Powered by Tuya, a NYSE listed company
Material: ABS/PVC/Aluminium
Power: Rechargeable Lithium Battery
Support by: APP Android 5.1 or above, IOS 9.0 or above
Colour: Black, White, Pink
Packaging: With portable gift box
Printing: 1C logo on portable gift box
2: 1 x Drinkware Pack: Sttoke Leakproof Ceramic Cup (12oz/350ml)
World's First Shatterproof Ceramic / 3 Hours Hot, 6 Hours Cold / Good Designs Award Winner / Removes residual odors / Ergonomically designed. Perfect on the go & any occasion
Features:
– Leakproof screw in lid
– Parabolic dynamics cup
– Double-wall insulation
– Shatterproof ceramic
– Ergonomic design
Printing: 1 x laser marking logo on 1 spot
3: 1 x Others: Double Layer Square Lunch Box (BPA-Free, Microwave Heating only)
Capacity: Top Compartment: 250ml; Bottom Compartment: 880ml
Spoon included
Colour : Blue, Grey
Packaging : Polybag
Unit Size : (L)15.0cm x (W)13.5cm x (H)11.5cm
Printing : 1C logo on 1 spot
4: 1 x Electronics Pack: AIBI Portable LED Multi Use Sterilizer
Recommended Retail Price (RRP): S$79.00
AIBI UV LED Sterilizer AB-S02 upgraded version comes with 69 UV LED nodes, uses specialized UV (Ultra-violet) wavelength combining both UVA (invisible Light) and violet blue light (visible Light) which is effective in killing bacteria and germs.
5: 1 x Electronics Pack: Energizer Wireless Fast-Charge Power Bank 10,000 mAh
Recommended Retail Price (RRP): S$69
Energizer QE10007PQ provides 10,000mAh capacity with three outputs including 1 Smart USB-A, 1 USB-C and 1 wireless output, giving you the most ultimate charging solution. The USB-C Power Delivery technology allows you to fast charge new iPhone series (8/8 Plus/X/XR/11/11Pro) from 0 to 50% in only 30 minutes, and other USB-C devices.
The Smart USB-A supports fast charge for Samsung, Huawei, and other compatible Android devices. QE10007PQ is also equipped with wireless fast charge up to 10W for Android devices. The dual input design gives you the option to recharge based on your convenience. QE10007PQ is the perfect power bank for your smartphone, tablet, and more, giving your essential devices plenty of charge while on-the-go!
Find out more at https://youtu.be/sIAL6NsXdmE
Printing: 1C logo on 1 spot
All 5 items will be nicely packed into:-
Kraft box (reusable and recyclable materials) and with paper filler to protect the gift items + customised belly wrap (logo, message and name of recipient will be directly printed on it)

Minimum Order Quantity (MOQ): 50 @ S$195 + GST each

* In the event an item ordered is out of stock or not available, we reserve the right to replace any item with an equivalent valued item.