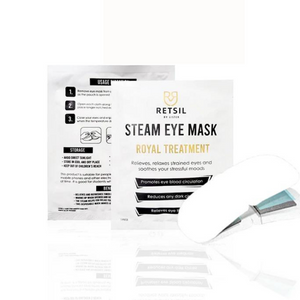 5pcs Pack with 3 Scents to choose from: Lemongrass, Lavender and Unscented
How To Use?

1) Take out the eye mask from the bag * Because it gets warmer when opened, use it immediately.
2) Cut the perforation and put on the ear
Close the eyes during use. Perforate the ears of the perforation.

Do not use with eye packs

Use eye drops after a while after instillation

Makeup may drop

Temperature and duration may vary depending on the usage environment.

If the room temperature is low, it may be difficult to feel the warmth.

Depending on the operating environment, it may swell with steam, but you can use it as it is.
DISCLAIMER
Do not use if you have an allergies such as a disease, inflammation, wound, swelling or eczema around your eyes. * Please consult your doctor or pharmacist if you are sensitive to heat, if your temperature is low, or if you are being treated by a doctor.

Please observe the following precautions for safe use. * When using this product for young children, people with physical disabilities, people with dementia, etc., please be careful of those around you.
PRECAUTIONS
If you feel it is too hot, or if you feel any allergies such as pain or discomfort, stop using it immediately.
If eczema, rash, etc. appear on or around the eyes, or if allergies such as redness or itch persist, discontinue use thereafter and consult a doctor.

Do not press your eyes from above the eye mask

Do not use a damaged eye mask

You cannot reuse an eye mask that has finished generating heat.

Do not heat in the microwave * When the skin gets warm, it may cause a temporary reddening of the skin or itching.
PRECAUTIONS FOR STORAGE AND HANDLING
Keep out of reach of young children and people with dementia

If the individual bag is damaged, it may not generate heat.

Store in direct sunlight or places with high temperatures and away from heat sources (such as on heating appliances)
Made In Korea
MOQ: 50