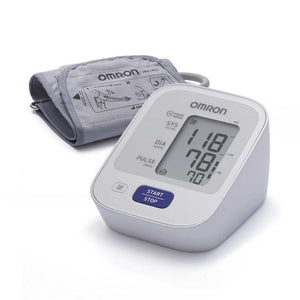 MOQ: 50
Omron HEM-7121 Automatic Blood Pressure Monitor provides easy and comfortable upper arm blood pressure measurement with enhanced IntelliSense Technology. Personalised inflation level, no pain and discomfort. Quick deflation release valve for speedy measurement. Clear And large LCD display for easy reading. User friendly operation with large button.
Product Features:
Cuff wrapping guide: guides user to the right cuff wrap by indicating 'OK'. This feature ensures an accurate and reliable blood pressure measurement.
Hypertension Indicator: If your systolic or diastolic pressure is outside the standard range (above 135/85 mmHg), the heartbeat symbol will blink.
Body movement Detection: Prompt user to retake measurement when an error is detected due to movement of the body. Irregular heartbeat detection. 30 Memory Storage.
Package Contents: Main Unit, arm cuff, instruction manual, 4 'AA' batteries.
Warranty: 3 Years Warranty (Singapore).