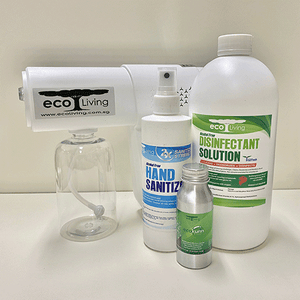 MOQ: 50 sets
COVID-19 – Home Recovery Kit:

1) Nano Sprayer Gun
2) Ecoliving Disinfectant 500ml
3) Ecoliving Hand Sanitizer 250ml
4) EcoKurin Multi-purpose Cleanser 50g (can make 5L)
What does the kit contains?
1) The Nano Sprayer Gun comes with a powerful motor and finer tips that produce a super micro-mist that gives better area coverage and protection in lesser time and effort.

2) Ecoliving Hand Sanitizer is also plant-based and Alcohol-Free. Not only is it safe for humans and the environment, but also gives continuous protection until you wash it off with water.

3) EcoKurin Multi-Purpose Cleaner is plant-based. This powerful cleaner is suitable for everyday washing and cleaning at home. Every 50g of the cleaner solution can make 5000 ml of cleaning solution. Comes with Complete Online Instruction Manual.