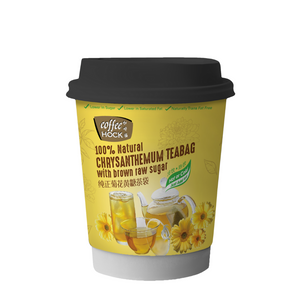 This is your favourite 2-in-1 Chrysanthemum tea with brown raw sugar in cup form! Perfect with you are on-the-go.

It is made with high quality chrysanthemum flower and sealed in a filtered teabag to ensure freshness and fragrance.

It contains no coloring, no flavoring and is not from extract.
Lower in Sugar

Lower in Saturated Fat

Naturally Trans Fat Free
Ingredients: Brown raw sugar, Chrysanthemum flower
Net weight: 1 tea bag x 10g
Brewing instructions: 1 tea bag / 200ml of hot water. Steep for 2-3 minutes.
MOQ: 50