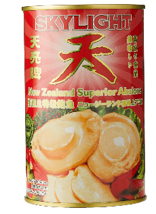 About Product
New Zealand Superior Abalones 425g have the taste of the sea with a unique & distinctive flavour. Go well with sauteed spinach & oyster sauce. Stir fry spinach with oyster sauce in wok. Cut abalone into slices or cubes & add into the spinach for a short fry & serve. Great for celebrations like festivities, holidays, birthdays, promotions and anniversaries.

Skylight is the most awarded abalones brand internationally with the finest selections used by restaurants, hotels, casinos and retailers worldwide, preferred by chefs for over 50 years.

Skylight Abalones feeding on healthy seaweed & kelps in the fresh, clean depths of the South Oceans, are being harvested, stringently selected, hygienically cleaned and packed in the shortest possible time to retain their freshness, aroma and taste using the most modern technology.
Highlights
Size 1 to 1.5 pcs.

Certifications & Endorsements
HACCP and ISO
MOQ: 50