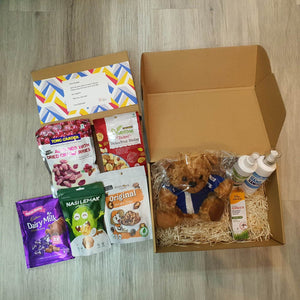 What is Included in the Pack?
1 x Teddy Bear (Size: 21cm). Bear Colours: Brown or Cream. Comes with a Jacket or Tee-Shirt or Polo Tee in various colours. 
1 x 250ml G3Tech Disinfectant Solution + 1 x 250ml G3Tech Hand Sanitizer. An unique self-disinfecting sanitizer that provides continuous protection against germs. Its non-toxic, plant-based formula is gentle on the skin and safe for use by elderly and children.
1 x 60ml Tiger Balm Mosquito Repellent Spray Natural. RRP: S$7.90
1 x 140g Tong Garden Flavoured Almonds & Fruit Galore (Almonds with Dried Cranberries) I Halal
1 x 85g NutriOne: Baked Nuts & Fruit Medley (Unsalted) I Halal
1 x 50g Mushroom Kingdom - Shiitake Mushroom snacks (Original flavour). Halal | Vegan friendly | Guilt-free | Product of Singapore
1 x 65g The Kettle Gourmet Popcorn with various flavours such as Nasi Lemak, Kaya Butter, Chilli Crab, Salted Caramel and Chocolate. Halal | Non GMO | No Trans Fats | Freshly Baked | Produced in Singapore

1 x 100g Cadbury Dairy Milk Chocolate Mini Bites 22pcs I Halal. Expiry date: May 2021
All items will be nicely packed into:-
Packaging : Kraft Box with paper filler + Customised Belly Wrap​ with corporate logo and message
Minimum Order Quantity (MOQ): 10 @ $68 each + GST
* In the event an item ordered is out of stock or not available, we reserve the right to replace any item with an equivalent valued item.