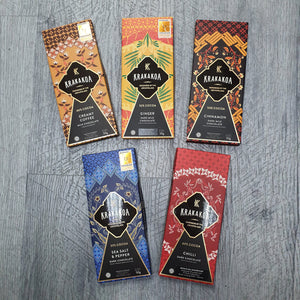 Choose from 5 different flavours
Flavoured Creamy Coffee Milk Chocolate – 40% Cocoa
A  creamy, velvety blend of aromatic Robusta and Arabica beans makes for an addictive latte in every bite.
Flavoured Cinnamon Dark Milk Chocolate – 53% Cocoa
A part sweet, part spicy indulgence of fragrant cinnamon blends harmoniously with a creamy caramel.
Flavoured Ginger Dark Milk Chocolate – 52% Cocoa
A warm, earthy aroma leads into a smooth honeyed creaminess with a delicate ginger spice.
Flavoured Chilli Dark Chocolate – 60% Cocoa
A hint of caramel gradually intensifies into a heat-filled kick from a fiery blend of Bird's Eye and red chilli.
Flavoured Sea Salt & Pepper Dark Chocolate – 59% Cocoa
A potent combination of punchy pepper and subtle sea salt eases into a lingering savoury bitterness.
MOQ: 50