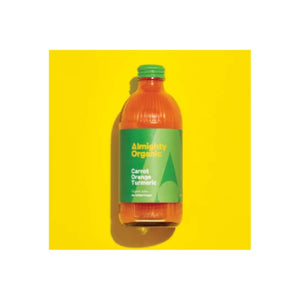 MOQ: 50
Low In Natural Sugars (No Sugar Is Added) · Sustainably Sourced Produce · Zero Plastic Packaging · Supports Little Gardeners · Vegan
Enjoy a box of Almighty Organic Juice for home, or the office, or wherever else you might like a fridge-full.
The carrots are from organic growers in Raikaia, not far from Christchurch, on New Zealand's South Island. Carrots also give us heaps of vitamin A, B6, H, K, as well as potassium.
Turmeric is a wonderful helper too, the curcumin locked within it is famous for its antioxidant and anti-inflammatory properties. Add some oranges to the mix and you've got yourself a delicious, nutritious juice that's low in natural sugars (<5g of sugar/100ml), and tastes out of this world!