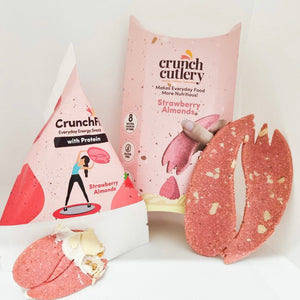 The Strawberry Crunch Bundle consists of:
Crunch Cutlery Carry Box (2 sets) - Strawberry Almonds

CrunchFit Energy Snacks (45g)- Strawberry Almonds
Here's a fun new way to enjoy your favourite snack! With edible Crunch Cutlery! Deliciously flavoured with Strawberry Almonds, you will be left to wonder - which tastes better? My spoon or snack!

Each box contains two individually packaged Crunch Cutlery sets for convenience. They are easy to carry around for everyday use. Every Crunch Cutlery is bursting with nutrition, containing 8 different sources of fibre for better gut health and overall nutrition.

CrunchFit is the delicious little pick-me-up for in-between meal time snacking. Made from a nutritious blend of vegan and gluten-free grains for nutritious snacking. CrunchFit also contains pea protein and assorted nuts for an extra protein boost with every bite.

Easy, convenient and perfect for active individuals and peckish children. Whether you are on the go or relaxing at home, CrunchFit will satisfy your nibbly needs and keep you energised.
MOQ: 50